| | | | | |
| --- | --- | --- | --- | --- |
| | | | | |
China Holidays, the UK's leading tour operator to China, offers unbeatable package to the Heritage China. 15 days for £2565
Tour Map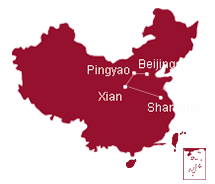 bg
Wang
"Visitors can explore lots of China Heritages from this tour."
Clients' comments
From N Carroll, Newcastle
A unique experience to discover authentic Chinese culture and history by taking this tour.
Weather on this Tour
Beijing

Pingyao

Shanghai

Xian
15 - day tour to Beijing (3 nights), pingyao (2 nights), Xi'an (2 night), Luoyang (2 nights), Shaolin Temple, Nanjing (2 nights), Shanghai(2 nights), and Suzhou
Image Gallery
Heritage China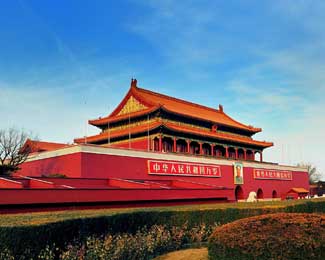 China Tour Full Itinerary
Key: B=Breakfast L=Lunch D=Dinner
Itinerary Highlights
9 UNESCO World Heritage Sites
4 most famous Ancient Capital Cities
Tasiting authentic Chinese Culture
Relaxing Rail journeys
Perfect combination of morden and tradition
Enjoy Suzhou's exquisite gardens

020 7487 2999
High Season from: £2895
Mid Season from: £2695
Low Season from: £2595
Day 1
UK/ Beijing
Today, you will take a scheduled flight from the UK to Beijing.
On board Overnight Flight.
Day 2
Beijing
Arrive in Beijing, met on arrival and take a transfer to your hotel for a three-night stay at the central located 3* Dongfang Hotel. Free for t.he rest of the day to overcome the jetlag.
3*Dongfang Hotel(3 nights).
Day 3
Beijing
Visit Tiananmen Square, and then proceed to enter the Forbidden City, the great palace that housed 24 successive emperors and their thousands of courtiers, eunuchs, concubines and slaves. Continue to Jingshan Park, the imperial gardens, for panoramic views and visit the magnificent red and gold Temple of Heaven that was built for the Emperor, the son of Heaven, to make sacrifices for a good harvest. B/L
Day 4
Beijing
Drive out from hotel to see one of the best-preserved and most dramatic sections of the Great Wall of China at Badaling (cable car excluded) and walk along the crenellated parapets that have snaked across the rugged mountain landscape for centuries, and visit the magnificent red and the imperial Summer Palace where you can wander through the formal gardens that were laid out by the extravagant Empress Cixi. B/L
Day 5
Beijing/Pingyao ( By high speed day train)
Drive to train station for your high speed day train to Pingyao, one of the four best preserved Ancient Towns in China, famed for its importance in Chinese economic history and for its well-preserved Ming and Qing ursban planning and architecture, a UNESCO World Heritage Site. Met on arrival and transfer to a traditional court yard house converted hotel built in nearly 300 years ago for a 2 nights comfortable and unique stay. B
4*Pingyao Yide Hotel(2 nights).
Day 6
Pingyao
Your half day tour in Pingyao, will begin by visiting Ancient City Wall, The walls are considered among the best-preserved oldest and largest ancient city walls on this scale in Chinese history, and was constructed in 1370. Followed by the visit to Ri Sheng Chang Bank, it is the first bank in China, now has turned into Museum of Chinese Bank. Pingyao still retains its urban layout, having a leisure stroll along the Ming Qing Street, you may feel you are entering into the glories old empire days. B/L
Day 7
Pingyao/Xian ( By high speed day train)
Morning start the day tour by driving to the Wang's Courtyard first, it is the largest-existing folk residence cluster in China, best known as the First Folk House in China. The magnificent residence, built by the affluent Wang family in the mid-17th century and it took more than half a century to build. After lunch, visit the Zhangbi Ancient Castle. Zhangbi Ancient Castle is well known for its unique architecture where it looks like a castle on the ground but in fact, it has massive ancient tunnels underneath the castle. Drive to train station for your fast train to Xian. Met on arrival and drive to central located Ramada Plaza Bell Tower Hotel for a 2-night stay. B/L
4*Ramada Plaza Bell Tower Hote Xian (2 nights).
Day 8
Xian
7,000 Terracotta Soldiers have stood guard over China's first emperor for over 2,200 years, and now, painstakingly repaired along with their chariots and horses, they still stand in battle formation in giant exhibition halls erected around the pits where they were discovered in the 1970s. Followed by a visit to Terracotta Replica Workshop. In the city visit Xi'an Museum. Finally strolling on Muslim Quarter surrounding the imposing Great Mosque. B/L
Day 9
Xian/Luoyang ( By high speed day train)
Met at hotel lobby to visit Xi'an's immense City Wall complete with towers and battlements, and then Take train to Luoyang, stay two nights in Luoyang. B/L
4* Peony Plaza(2 nights).
Day 10
Luoyang - Shaolin Temple /Luoyang
Today first visit White Horse Temple. The White Horse Temple in Luoyang is the first Buddhist temple in China, the important cradle of China's Buddhism, which was introduced into China from India in 68AD in Eastern Han Dynasty (25 AD – 220 AD), the same year when the white horse temple was built. Then drive to Shaolin Temple where is believed to be the birthplace of Shaolin Division of Martial Arts. You will also enjoy the 40-mintute martial arts performance in the temple. After that back to Luoyang. B/L
Day 11
Luoyang/Nanjing ( By high speed day train)
In the morning to visit the Longmen Grottoes. It is situated on the Yihe River bank, about 12 kilometers from Luoyang city. It is one of the three most valuable Buddhist cave and rock carvings in China. The grottoes were first carved during the Northern Wei Dynasty (386-534), when the rulers relocated their capital from Datong to Luoyang at the end of the 5th century. The Longmen Grottoes were listed as a World Heritage Site in Nov, 2000. After lunch, take high speed train to Nanjing. B/L
4* New Century Hotel(2 nights).
Day 12
Nanjing
This morning we will visit Ming Xiaoling Mausoleum Continue to visit Presidential Palace. The Presidential Palace is a solid history book of 600 years' Chinese modern history from the Ming Dynasty, through Qing Dynasty, Taiping Heavenly Kingdom and the Republic of China. Afternoon we are going to visit the Confucius Temple and followed by the visit to beautiful Xuanwu Lake. B/L
Day 13
Nanjing/Shanghai ( By high speed day train)
Today take high speed train to Shanghai, and then stroll through Yuyuan Garden, an oasis of calm and beauty in the midst of the bustling city. Later stroll along the Bund, Shanghai's riverside promenade with futuristic skyscrapers on one bank and grand 19th century European architecture on the other. B/L
4*Holiday Inn Downtown Shanghai(2 nights).
Day 14
Suzhou
Drive to Suzhou, described by Marco Polo as 'the Venice of the East', and visit two of its favorite classical gardens, the Humble Administrator's Garden, and the Garden of the Master of the Nets. Admire exquisite handicraft at the Silk Embroidery Institute before returning to Shanghai. B/L
Day 15
Shanghai/UK
Transfer to the airport to take your homeward flight back to UK. B
On board Overnight Flight.
Tour Departure Dates - Heritage China
Want More from this China Tour ?
Holiday Extension
Make your holiday tour in China even better by adding Hong Kong! Fly from Shanghai to Hong Kong to stay two night sat the 4* Metropark Hotel Kowloon with breakfast and airport bus transfers included. Enjoy exploring this vibrant city independently – perhaps take the tram up to 1200ft-high Victoria Peak for a panoramic view of the harbour and Kowloon, stroll around the Central district with its mix of colonial and contemporary architecture, or visit Tsim Sha Tsui East's wide range of museum and shops.
Prices From:
£ 395 per person twin shared.
Tailor-make this China Tour
If you prefer to travel in a private group or to go at your own pace spending more time in one particular city perhaps, our tailor made China holidays are the perfect answer. Travel with your own personal chauffeur and English-speaking guide, available for any group size. Just call and ask our tailor made team to help you create your own China holiday tour.
Prices From:
£ 95 per person twin shared.
Want More Information About China Holidays ?
Brochure Request

Call Us

If you would like us to help you create the perfect China Holiday then please call us on:
020 7487 2999
| | |
| --- | --- |
| | |
| | 4 Glentworth Street London - NW1 5PG |
Enquiry Form
Popular China Tours

Featured Articles

Other Information