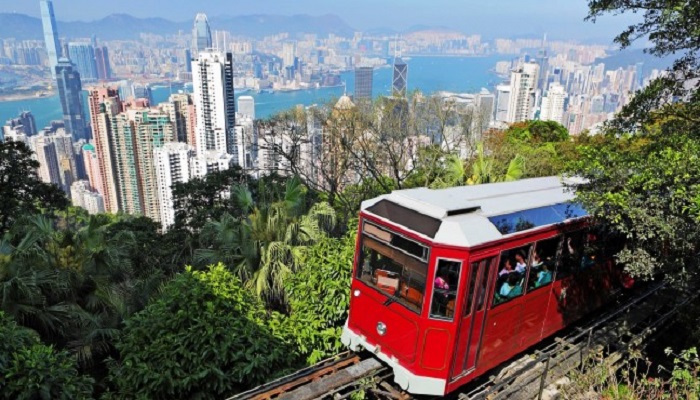 Also known as Mountain Astin the Victoria Peak at the altitude of 552 m is the highest mountain in Hong Kong. The very first house on the Peak was built for commercial use and it was the Signal Station. The small pat was build for people to get to the top. The first resident to build a summer house on the Peak was Sir Richard Mac Donnell, the sixth Governor of Hong Kong. He chose this area because of beautiful panoramic views of Hong Kong and the pleasant climate. In order to reach the peak residents were taken by sedan chairs which were carried up and down the steep slope. Next few years demand for residence on the Victoria Peak grew and to boost accessibility the Peak Tram was designed making the Peak exclusive residential area reserved for non-Chinese people.
The Peak Tram had 3 classes:
1) First Class for British Colonial official and residents of Victoria Peak
2) Second Class for British Military
3) Third Class for other people
The Peak Tram covers distance of 1.4 km, has an elevation of 400m and steepness of 48 % . There are four stations; each of them is a request stop:
1) Kennedy Road. named after a former Governor of Hong Kong Sir Arthur Edward Kennedy
2) MacDonnell Road and named after Sir Richard MacDonnell, a former Governor of Hong Kong;
3) May Road named after Sir Francis Henry May, a former Governor of Hong Kong.
4) Barker Road named after General George Digby Barker, a former military commander and acting administrator of Hong Kong.
Today the Victoria Peak is the major tourist attraction of Hong Kong. The Peak Tower on the summit houses numerous attractions, like a Ripley's Believe it or not 'Odditorium', shops and restaurants.
If you planning to travel to Hong Kong please email us for more information at sales@chinaholidays.co.uk. You can call us on 020 7487 2999 or visit our site at www.chinaholidays.co.uk