Qingdao is a bustling naval base and industrial centre in Shandong Province in east China and lies across the Shandong Peninsula which juts out into the Yellow sea. Qingdao has a vast history and has received influence from Chinese and European culture. The meaning of the name Qingdao is "Green Island" and related to the lush plant life that used to grow in abundance there. China Holidays offers a group tour called 'Confucius and Buddha', where our clients have the opportunity to explore and discover everything that Qingdao has to offer.
Qingdao was leased to Germany in 1898 and as a result was heavily influenced by German culture. The Tsingtao brewery is one of the most famous aspects of German culture still present in modern day Qingdao. The Tsingtao brewery was founded in 1903 under the name the 'Germania Brauerei' and continues to hold 15% of the domestic beer market in China today. As a result the Chinese introduced a beer festival in 1991 which takes place every year in August and its one of the largest in the world.
The Germans did not only establish the Tsingtao brewery, but also contributed to the creation and expansion of the Qingdao area as a modern city. Before German intervention, Qingdao was a small fishing village. When Germans entered the city, they were able to build roads, buildings and housing which have continued to expand into the modern day.
One of Qingdao's most famous and iconic sights is the Zhan Qiao Pier in south Qingdao. The pier was started in 1891 and was enlarged, like the city, by German influence. The Zhan Qiao pier was made even more famous in the early 20th century as it was put on the bottles of Tsingtao brewery beer as the symbol of Qingdao. Qingdao is also home to the Jiaozhou Bridge which is the longest bridge over water in the world; stretching to a whopping 41KM in length.
Religious buildings are prominent in Qingdao. Due to German influence, the presence of Christian religious buildings is apparent, with both Protestant and Catholic churches throughout the city. The Protestant Church in Qingdao was built in 1910 and houses a bell that was brought over specifically from Germany. Qingdao 's Chinese religious background also heavily influences the city. One of Qingdao's most famous religious Chinese sights is the Zhanshan Temple which is situated at the foot of Zhanshan hill. This temple was built in 1945 and includes one temple and five pagodas. Inside there are many Buddhist scriptures and statues dating back many centuries.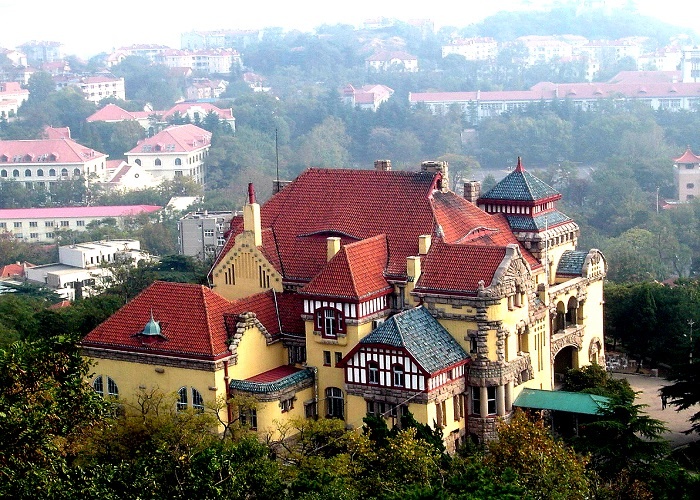 Although China is not really everyone's first thought when wanting a beach holiday, Qingdao actually is home to many beautiful beaches which are swarmed at the weekend by those seeking a chance to relax by the sea. There are both rock beaches and bathing beaches in Qingdao. One of Qingdao's most famous beaches is Laoshan Beach which is surrounded by beautiful mountains, including Laoshan Moutain. The coast of Qingdao is also renowned for its mansion area, called Ba Da Guan. Ba Da Guan means the 8 great passages and it was originally the home of the German military in the early 20th century. The mansions in this area are based on European styles and look extremely grand in appearance.
Being by the sea, it is no surprise that Qingdao is famous for its seafood. Qingdao is regarded as the 'cradle of Shandong cuisine' as it really emphasises on Shandong characteristics in its cooking, including use of shallots, soy sauce and garlic. Qingdao cuisine is known as Lu Cuisine and is ranked as one of the Four Great Traditional cooking types in China. Example dishes of Qingdao dishes include Sweet and Sour Carp, Braised Abalone and Braised Spare Ribs.
Qingdao is clearly a city of diversity, carrying within itself a blend of European and Chinese culture. The German presence in the 20th century has left Qingdao as a well-developed city rich with international character. Chinese culture has also remained and maintained itself into Qingdao, most prominently seen in Qingdao's delicious Chinese cuisine and Chinese religious presence. Qingdao is home to mountains, beaches, mansions and skyscrapers making it a modern metropolis with a rich diversity of activities and tourist sights. It is no wonder that Qingdao was voted the most liveable city in China.
Not only in our group tour, 'Confucius and Buddha', but also in our Tailor Made Tours, China Holidays can organise trips to Qingdao for our clients, allowing them to see and understand how Qingdao is the most liveable city in China and a growing place of interest for tourists.