1.  Huanglong Scenic and Historic interest area (黄龙)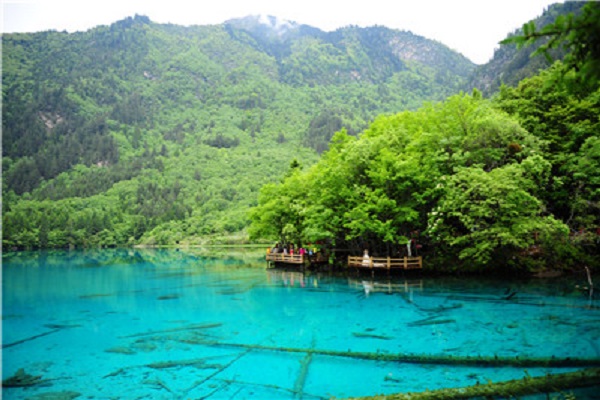 Huanglong is located in northwest Sichuan and is part of the Minshan mountain range. It is one of the few natural homes of the Giant Panda and the Golden Snub-nosed Monkey. Huanglong is most famous for its beautiful coloured pools which have been uniquely formed by calcite deposit. The ecosystem is extremely diverse in Huanglong, and ranges from snow-capped peaks to tropical hot springs. There are many caves and hills too which makes the area so beautiful and distinguished.
2.Jiuzhaigou Valley Scenic and historic Interest Area (九寨沟)
The meaning of jiuzhaigou is valley of nine villages. It is a beautiful natural reserve that also lies in Sichuan province. Jiuzhaigou is full of beautiful waterfalls, colourful lakes and snow-capped peaks. The people who live in Jiuzhaigou come from diverse areas, including Tibet and the Qiang people.
3. Wulingyuan Scenic and Historic Interest Area (武陵源)
Wulingyuan is an area of scenic and natural interest in Hunan Province in South China. The main feature at Wulingyuan is the magnificent quartzite sandstone pillars, with some reaching heights of over 800 metres. Between the many peaks, lies ravines, steams, pools and waterfalls and 2 large natural bridges. Wulingyuan is also the home to many endangered plant life and animal species.
4. Lushan National Park (庐山)
Lushan National Park is in Jiangxi province in south east China. Its most famous sight are the Lu mountains which are some of the most renowned mountains in China. They are an unusual oval shape and neighbour the Yangtze river on the north. The steep peaks of the mountains are covered for the majority of the year in sea clouds like that seen in Emei. The world famous Lushan tea is grown here solely.
For more information about travelling in China please call 020 7487 2999 or email sales@chinaholidays.com. Alternatively visit our site www.ChinaHolidyas.co.uk