Here is a list of 10 animals native to China. Some of them are considered endangered species, some of them are domesticated and some can be seen only in wild, and if you are lucky enough.
Pandas – One of the most famous symbols of China, as well as a symbol of wildlife conservation and international diplomacy, is the Giant Panda. As a native to China, the protection of the giant panda is vital to Chinese policy, which has given these beautiful animals UNESCO status.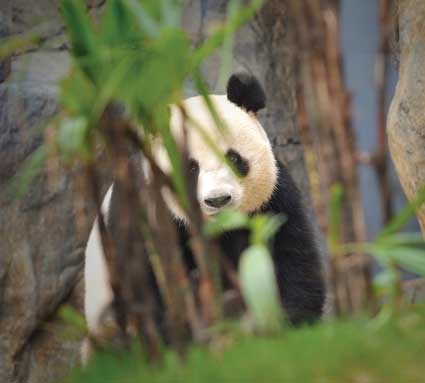 Red Pandas – they are found in the forests of the Sichuan and Yunnan province. They are difficult to spot in the wild but the best place to see them is Panda Breeding Centre in Chengdu.
Siberian Tiger – endangered and majestic creatures also known as the Amur Tiger. The best place to see the Siberian Tiger is in Harbin in the north east part of China at the Siberian Tiger Park.
Golden Monkey – located in the mountainous regions of Southwest China. The best place to see them (if you are lucky) is from a ship on the Yangtze River. They are considered an endangered species.
Baiji – is a fresh water dolphin and known as the Yangtze River Dolphin. Unfortunately it's categorised as critically endangered as none have been seen on the Yangtze River since 2006.
Chinese Sturgeon – like the Baiji they are only found in the waters of the Yangtze River and are considered critically endangered.
Bactrian Camel – can be easily spotted in Northern China across the desert areas. This animal has been domesticated and it's used as a form of transport.
Tibetan Antelope – a gracious and bouncy animal found on the Tibetan Plateau. It may be seen when travelling by train from Beijing to Lhasa.
Pink Dolphin – better known as the Chinese White Dolphin. It can be seen in the Pearl of River Delta close to Hong Kong. Since handover of Hong Kong to China the Chinese White Dolphin became official mascot of the city. They are considered as endangered species.
Chinese Pheasant –is a symbol of good fortune and beauty. It's also known as the Golden Pheasant due to the golden ( yellow)  feathers. It could be seen in western China but mostly in the zoos across the country.
If you would like to try and see any of the listed animals join carefully rafted tours organised by China Holidays. You can email us on saled@chinaholidays.co.uk or call us on 0207 836 2999